Avec l'entrée en vigueur du projet de loi sur la déclaration du patrimoine, la lutte contre l'enrichissement illicite et les conflits d'intérêts dans le secteur public, la lutte contre la corruption s'est renforcée par la mise en place d'un cadre réglementaire consacrant les principes de transparence et d'intégrité. Toutefois, la corruption demeure un phénomène omniprésent en Tunisie malgré les efforts pour l'éradiquer. Une étude réalisée dans ce sens par l'institut de sondage « One to one Research and Polling » vient appuyer cette idée.
Les résultats obtenus de l'Afrobaromètre sur la corruption en Tunisie ont été communiqués lors d'une conférence de presse organisée, lundi 1er octobre 2018, en présence notamment de Youssef Meddeb, de l'institut du sondage et de Mohamed Ayadi, membre du conseil de l'Instance nationale de lutte contre la corruption (Inlucc).
Avec une série de 100 questions posées sur un échantillon varié de 1200 jeunes de plus de 18 ans, ce sondage réalisé du 1er avril au 5 mai 2018 a porté essentiellement sur le niveau de la corruption en Tunisie, sur son impact sur les rouages de l'administration, les institutions politiques et les hommes d'affaires ainsi que sur le rôle du citoyen dans la lutte contre ce fléau et les risques qu'il pourrait encourir s'il dénonce un dépassement.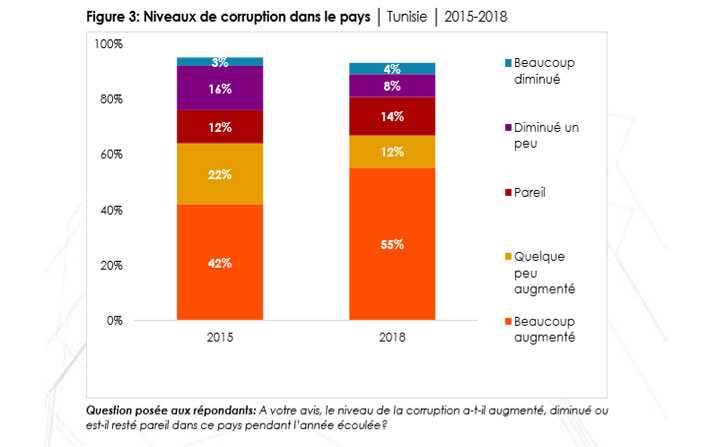 67% des sondés ont affirmé que le niveau de corruption a augmenté depuis l'année dernière. Ils ont également indiqué que parmi les problèmes auxquels ils souhaitent voir le gouvernement pallier, la corruption occupe la 3ème position après la gestion économique et le chômage. 55% de ces 67% ont indiqué, par ailleurs, que la corruption s'est aggravée d'une manière conséquente en 2018 contre 42% en 2015.
En outre, 64% des Tunisiens ont souligné que le gouvernement a échoué dans sa lutte contre la corruption contre 25% qui ont dit l'inverse. Leur évaluation des efforts gouvernementaux dans le traitement des affaires de corruption était, en effet, assez négative.
30% des sondés voient, de surcroît, que tous les membres du gouvernement et les députés au Parlement, ou la plupart d'entre eux, sont corrompus contre 17% en 2015. Le taux de corruption chez les directeurs des entreprises a, cependant, baissé de 47% en 2015 à 28% en 2018.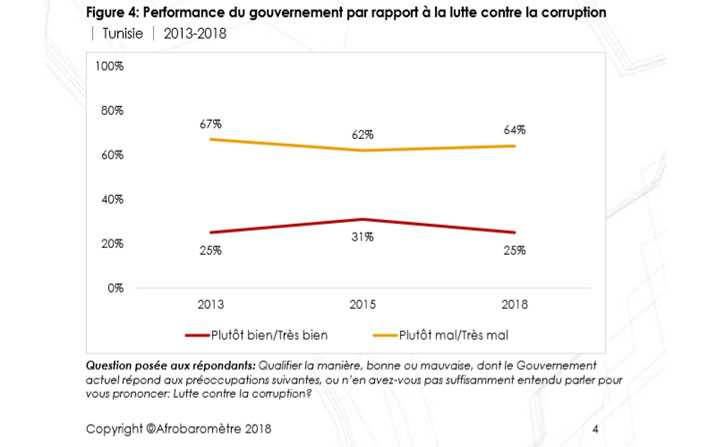 Les juges et les magistrats ont enregistré un taux de corruption évalué à 16%, représentant ainsi la catégorie la moins corrompue selon ce sondage. La confiance s'est également rétablie aux responsables locaux, aux sécuritaires ainsi qu'au chef de l'Etat où le taux de corruption a décliné de respectivement 9%, 8% et 7%. En effet, les sondés ont précisé que 27% des responsables des autorités locales sont corrompus, 25% croient que le président de la République l'est, 23% voient que la police et les organes sécuritaires sont corrompus alors que 18% pensent que les prédicateurs et les chefs religieux sont impliqués dans des affaires de corruption.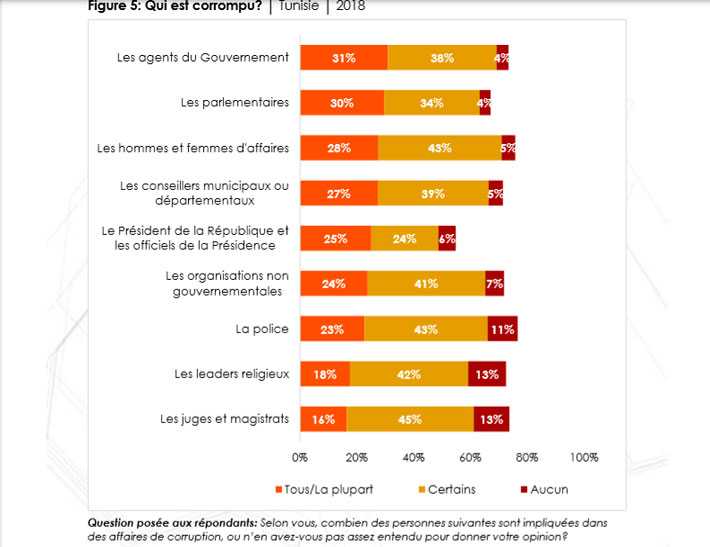 Concernant le rôle qu'incombe au citoyen dans la lutte contre la corruption, 17% des sondés ont déclaré avoir versé des pots de vin afin d'éviter des différends avec la police ou d'obtenir son aide. 12% des Tunisiens ont payé pour recevoir des documents, 11% pour obtenir des services médicaux au sein des hôpitaux et des cliniques et 8% pour bénéficier des services des établissements scolaires étatiques. Bien que les diverses classes sociales aient recours au versement des pots de vin en contrepartie de faveurs, cette pratique est plus répandue, néanmoins, chez la classe sociale aisée afin d'éviter les taxes et les procès ou encore de s'approprier un bien qui n'est pas le leur.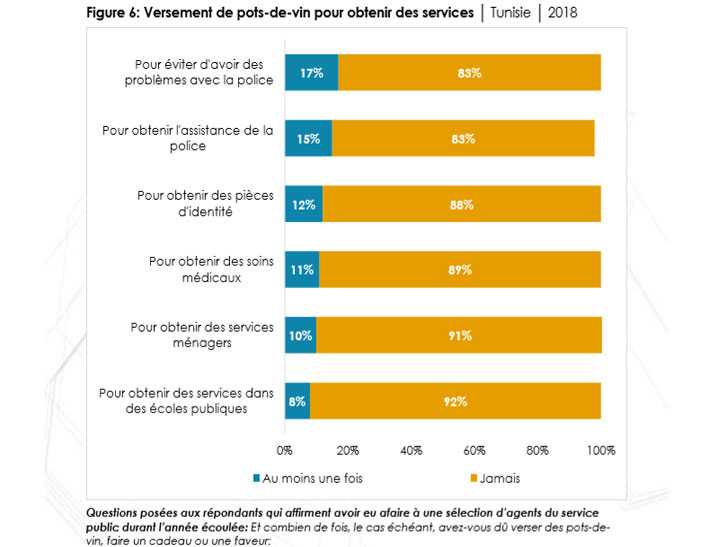 Etant donné que la lutte contre la corruption n'est pas uniquement la responsabilité de l'Etat mais également celle des institutions, de la société civile, des citoyens et des différentes composantes de la sphère sociale, 59% des sondés croient au pouvoir du changement citoyen où chaque individu peut contribuer à lutter contre la corruption. Toutefois, 61% des Tunisiens ont exprimé leur réticence envers la dénonciation des soupçons de corruption par peur des répercussions que cela engendrerait. Ils ont affirmé risquer des représailles en rapportant les actes de corruption. Les sondés sont, de plus, divisés en ce qui concerne les mesures que prendront les autorités en cas de dénonciation de ces affaires suspectes de corruption.
Malheureusement, le taux de réticence des citoyens par rapport la dénonciation des affaires de corruption est alarmant. Malgré l'existence d'un cadre juridique, régissant cette question, adopté à l'ARP depuis février 2017, les Tunisiens ne semblent pas trop s'y fier. Le projet de loi relatif à la dénonciation de la corruption et la protection des dénonciateurs a, en effet, relevé plusieurs points de divergence notamment celle relative à la définition de la corruption ainsi qu'à l'étendue de la protection du dénonciateur.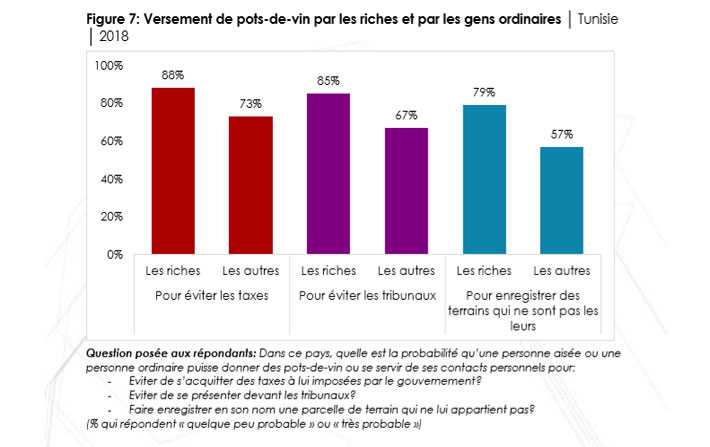 En tout état de cause, entre l'exigence d'une transparence dans le traitement des affaires soupçonnées de corruption, le droit d'accès à l'information et la nécessité de préserver les données personnelles, la dénonciation de la corruption ne semble pas aussi évidente ce qui explique l'hésitation des Tunisiens à révéler les actes de corruption.
Quant au rôle de l'Etat, il lui revient d'abord d'instaurer la bonne gouvernance au sein de ses institutions, de faire preuve d'intransigeance dans les affaires de corruption qui ne doivent pas passer en toute impunité. Il est enfin crucial d'inculquer les valeurs d'intégrité et d'honnêteté aux individus à travers un travail exhaustif de sensibilisation entamé dès leur jeune âge.
Vous pouvez lire l'article depuis sa source sur Business News