La Tunisie est en tête des pays arabes en termes de démocratie. C'est ce qu'a révélé la dernière version de l'étude réalisée par le département de recherche et d'analyse du magazine britannique The Economist (The Economiste Intelligence Unit).
The 2017 edition of the Democracy Index records the worst decline in global democracy in years. Freedom of expression is facing new challenges from both state and non-state actors, and is a special focus of this year's report. Download now to learn more: https://t.co/op5DNjaJsB pic.twitter.com/E5lqq82aPr

— The Economist Intelligence Unit (@TheEIU) January 31, 2018
Classée 69e au niveau mondial, la Tunisie obtient le score de 6,32, ex-aequo avec Singapour. Elle devance, ainsi, le Maroc qui se place en 101ème position, le Liban (104ème) et la Palestine (108ème).
Sur le plan continental, la Tunisie figure à la sixième place en Afrique derrière l'Île Maurice, le Cap vert, le Botswana, l'Afrique du Sud, le Ghana et le Lesotho.
Quant au trio de tête, il est constitué de la Norvège (9.87), l'Islande (9.58) et la Suède (9.39).
La Corée du Nord, la Syrie et le Tchad sont en queue de peloton, en occupant respectivement les 167ème, 166ème et 165ème positions.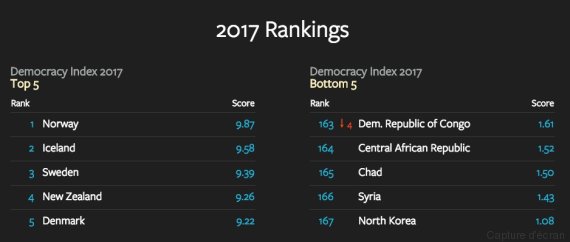 Dévoilée ce mercredi 31 janvier 2018, cette étude tente d'évaluer l'exercice démocratique dans 167 pays à travers le monde.
Le calcul se base sur soixante indicateurs regroupés en cinq catégories : le processus électoral et le pluralisme, les libertés civiles, le fonctionnement du gouvernement, la participation politique et la culture politique.
La notation s'effectue selon une échelle allant de 0 à 10. En vertu de cette note, les pays sont classés dans quatre compartiments : régime démocratique, démocratie imparfaite, régime hybride, et régime autoritaire.
Les pays sont, donc, répartis sur quatre catégories : démocratie (19 pays), démocratie imparfaite (57 pays dont la Tunisie), régime hybride (39 pays) et régime autoritaire (52 pays).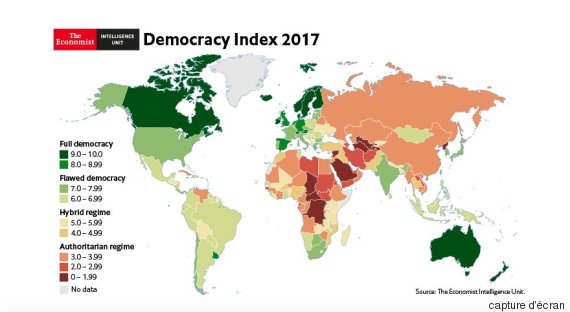 Le classement dévoile, par ailleurs, que les "démocraties imparfaites", pèsent pour 44,8 % de l'humanité. On y retrouve les États-Unis qui se placent à la 21e place avec une note de 7,98. La France et de nombreux autres pays européens (dont l'Italie et la Belgique) sont également des "démocraties imparfaites".
Vous pouvez lire l'article depuis sa source sur HuffPost Tunisie